Pallet rack netting is a smart, economical safety accessory attached at higher rack levels to prevent inventory, cartons or debris from falling through the rack system. Safety netting is the umbrella term used for all net-based rack guarding methods used to enhance warehouse safety and loss prevention efforts.
There are two safety netting/guarding options:
Wire Mesh Containment Panels – wire mesh mounted in frames usually single or double bay width
Poly/Nylon Safety Netting – polypropylene or nylon netting is typically nstalled across a wide pallet rack span
The netting can be affixed to the front, rear, or top of the pallet rack to protect pedestrian walkways, tunnels, and work areas. It can also be used to protect pallets from encroaching on the flue space between racking systems which is in compliance with National Fire Protection Association (NFPA) regulations.
Safety netting is customizable to fit your system specifications and is easy to attach to system uprights and beams. Safety netting is most often attached at regular intervals on the upright and then stretched across the rear of the rack bay to secure the pallets/inventory in place.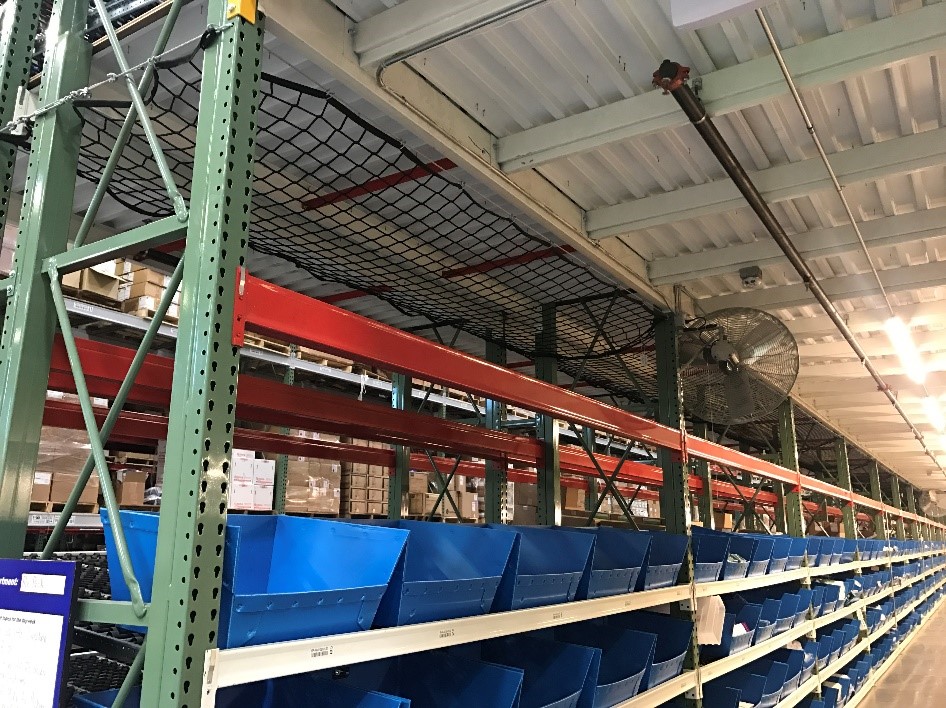 Key areas to consider for safety netting:
Rack storage directly above employee work areas
Rack storage above/along thoroughfares
Flue space between racks
Pick tunnels
Horizontal guards — catch nets set below the pallet bay to capture items that fall from the above bay (another option to wire deck).
Benefits:
Secures inventory in pallet bay
Prevents worker injury
Allows full visibility of inventory
Reduces costly facility clean ups
Reduces facility down-time
Deters inventory theft
Apex will help you choose the best safety netting product for your pallet rack systems and facility workflow.
As part of our Apex Rack Repair & Safety Program, we also offer you two easy to use options to evaluate the structural soundness of your pallet racking and overall warehouse safety. Choose which option works best for you and your team:
The Rack Repair App…or 2. the Apex PRO's Rack Auditors.
---
Apex Rack Repair Mobile App provides Do It Yourself capability to conduct a complete pallet rack system audit. The app prompts you for key specs and photos as you identify system damage on columns, struts, baseplates, anchors, and beams. You can also take notes about wire decking, supports, load deflection, proper flue space, and more.
If all that sounds like something you'd prefer to Leave it to the PROs … Apex still has you covered. Apex PROs rack inspectors will come to you and handle your complete audit using the Rack Repair Mobile App.
Our Promise – Whether DIY with the app or a PRO audit you'll receive a comprehensive rack inspection report with an independent solution recommending steps for system repairs and maintenance.
Safe, "healthy" rack is a key component in warehouse optimization. The Apex Rack Repair Mobile App is here to help. Download the app today, call us or visit our website for more information.