Warehouse pallet rack is designed to be tough, built with the durability and strength you need to store and protect inventory while safeguarding your workers. Understanding how rack system materials, components, and design work together to ensure safety and function can help your team know what to do should you have capacity or damage concerns. One of these key design and safety components is the pallet rack strut….
What is a Pallet Rack Strut?
Simply put, a pallet rack strut is a bracing between columns, but there is slightly more to it than that simple definition may confer.
The assembly of columns, struts, and baseplates make up a pallet rack upright. Uprights are typically constructed of two columns connected by horizontal and vertical struts and anchored to the floor with a baseplate. Justly named, horizontal struts form horizontal bracing between columns, and diagonal struts form diagonal bracing between columns.
Together, the struts are aligned in what is called a brace panel that is repeated throughout the height of the upright. Visit our recent blog to learn more about the brace panel design.
Attaching the struts to the pallet rack uprights depends on the system design. Struts can be either welded or bolted to the columns.
Struts Take Their Shape
Pallet rack struts can come in several shapes.
Shape of Struts
Angle
Flat
Open "C" Section – struts connect with bolted connectors via the open column back
Horizontal = Square Tube
Diagonal = Round Tube
Strut Safety is Warehouse Safety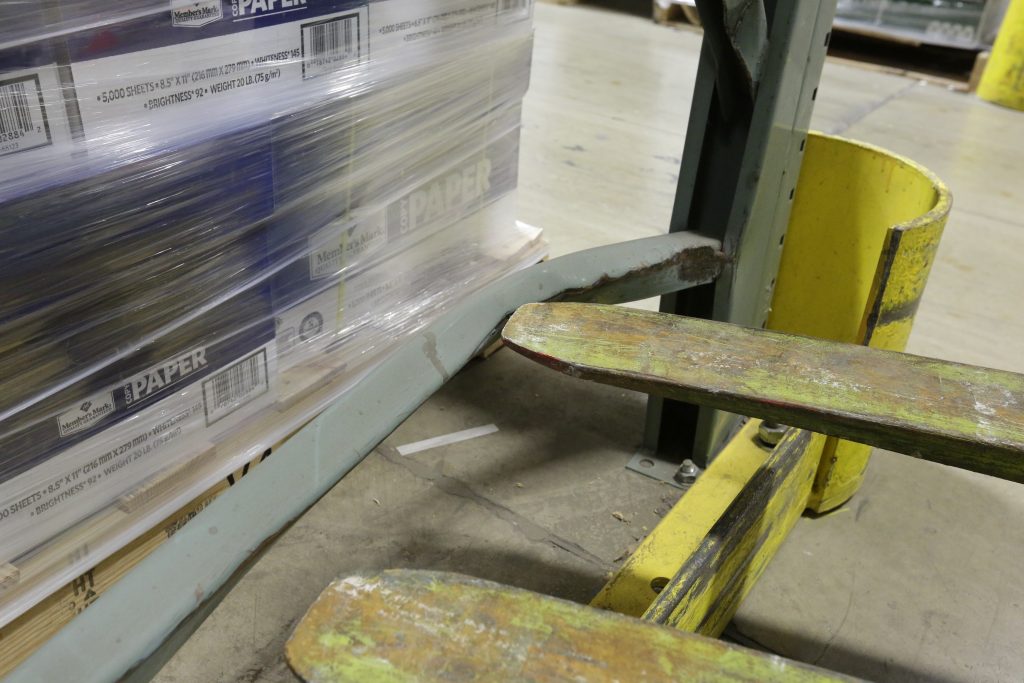 Struts can be damaged particularly by equipment strikes. Bolts can loosen or even welds can be broken away from the upright. Regular pallet rack inspection is the best way to ensure pallet rack system safety and integrity. If you encounter strut damage, the rule is if the torn or broken horizontal or diagonal braces prove a deflection in either plane beyond approximately ½", they must be repaired. To assess if rack damage poses an immediate safety risk, here are some general guidelines for rack that should be immediately unloaded.
Pallet Rack that is not anchored.
Severe beam damage where the beam is creased or bucked.
Upright damage where the upright is completely creased or out of plumb.
Excessive strut damage, or multiple struts, in frame line or row.
Multiple damaged items in a row or system.
Apex Rack Repair App is a helpful tool to use in identifying and recording rack damage. The app will guide you to collect precise measurements for each item: uprights, beams, connectors, struts, baseplates, end row guards, post protectors, and wire deck.
---
Identifying Pallet Rack Damage with the Apex Rack Repair App
The Apex pallet rack safety experts have designed a tool that you can use to quickly assess pallet rack damage and capture all the necessary specifications to get a rack repair kit ordered and in place without delay.
The Apex Rack Repair App can be downloaded for free from Google Play or the App Store. The Do It Yourself design of the app guides you through a rack damage assessment and prompts you to capture the images and specs necessary to ensure your rack is safe and assess if a repair is needed.
You can also contact the Apex PROs to complete a thorough pallet rack system and warehouse safety audit. The Apex PROs are trained and certified rack inspectors that will complete your audit using the Rack Repair App.
Our Promise –  Using the Rack Repair App or hiring the Apex PROs, guarantees an independent, non-biased pallet rack audit and repair or replace solution.
Download the app today, call the Apex team at (833) 402- 9547, or visit our website for more information.